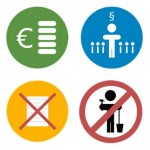 An Unconditional Basic Income (UBI) is an income unconditionally granted to all members of a political community on an individual basis, without means test or work requirement. Unlike existing minimum income schemes in european countries, UBI is universal, individual, unconditional, and high enough to ensure an existence in dignity and participation in society. 
What is Unconditional Basic Income?
We emphasize that UBI should not replace the compensatory welfare state but rather complete and transform it into an emancipatory welfare system.