Within the NFT and cryptocurrencies madness, there are also some philanthropists.
In this case, we have a billionaire who has managed to sell an NFT for $48 million and will donate half to @GiveDirectly, the NGO that is carrying out the largest Universal Basic Income experiments!
In this tweet, there is a good chance of success for the ECI if we only get a few mentions on Twitter, since it is the founder of Twitter himself, Jack Dorsey, who also supports the UBI.
The news article :
Crypto entrepreneur Sina Estavi bought Twitter founder Jack Dorsey's first-ever tweet as an NFT for $2.9 million last year. He listed the NFT for sale again at $48 million last week.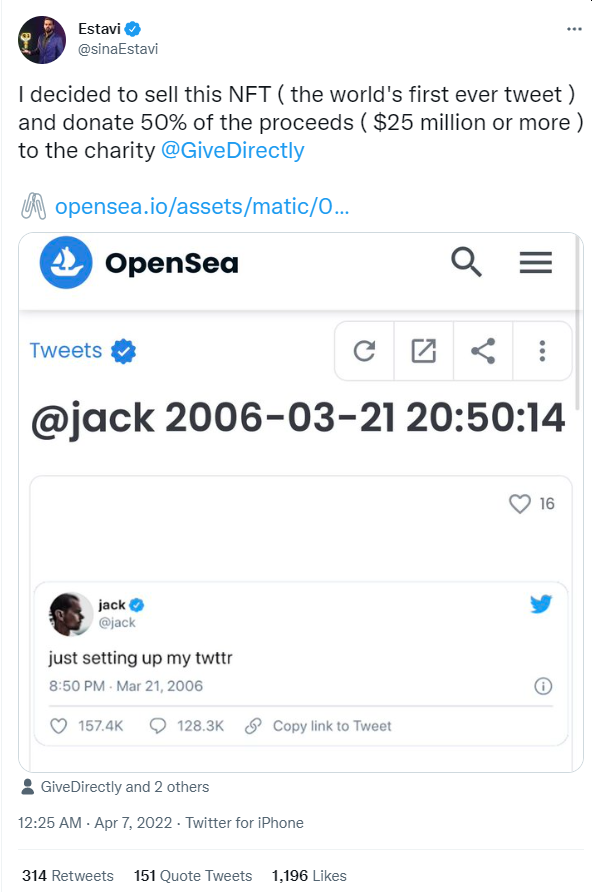 I decided to sell this NFT ( the world's first ever tweet ) and donate 50% of the proceeds ( $25 million or more ) to the charity @GiveDirectly
‌‌‌‌‌‌https://t.co/cnv5rtAEBQ pic.twitter.com/yiaZjJt1p0  — Estavi (@sinaEstavi) April 6, 2022
Within the NFT and blockchain craze, there is also some philanthropist.
You can help pushing the ECI by retweeting this tweet from Carlos Arias
Could you help push the EU Parliament to implement #UBI in Europe?
https://twitter.com/tharga8616/status/1514471695209402368
Do you think we can grab jack and Estavi's attention to help us push the ECI?
I think is the only thing we are missing, a bold statement of support from somebody with influence and lots of followers.
Best regards,
Carlos Arias